My Silver Lox Bagel recipe is an ode to my favorite bagel spot, Courage Bagels, in Silver Lake, CA (Silver Lake + lox). They offer fresh bagels with crispy edges and the toppings include lox, caviar, heirloom tomatoes, fresh dill, red onions, capers, and cucumbers. The tomatoes and herbs are so fresh , it feels like you're biting into a garden. Their bagels are epic. Their daily long line doesn't surprise me because their bagels have become a staple. Check out our Moore Food: Courage Bagels Foodie Review.
They are so delicious, they are giving New York bagels a run for their money according to the New York Times.
In honor of Courage bagels I decided to create my own version of chewy bagels but with homemade cream cheese. Cream cheese made from home is not only simple but it tastes so much richer and creamier. The two in combination with our Courage Bagels fixings is insane!
Making your own bagels is not only cost effective, and healthier, but it tastes so much better when everything is made fresh.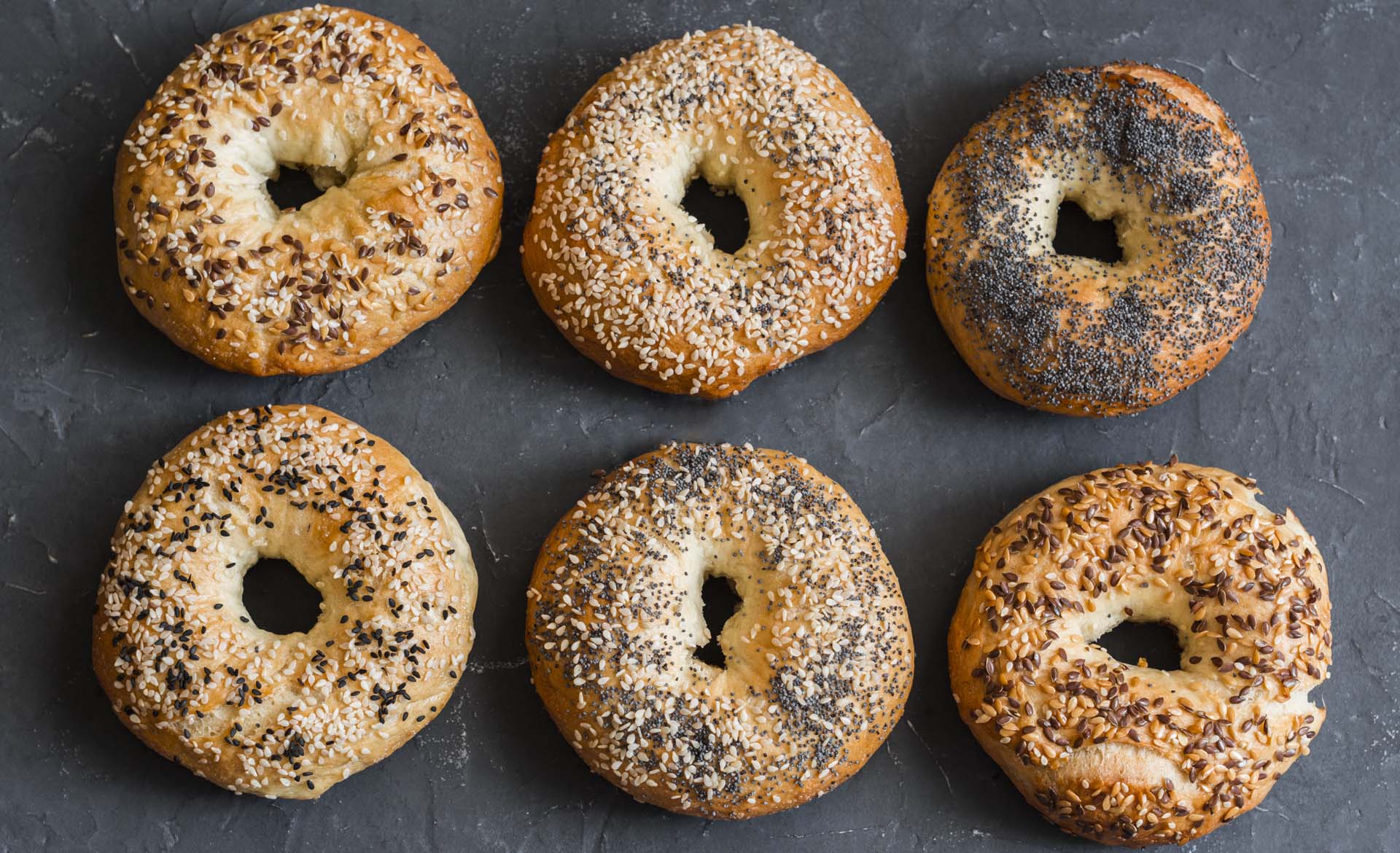 Silver Lox Bagels
Equipment
Stand mixer with dough hook

Lined baking sheet

Large pot

Food processor

Pastry brush

Plastic wrap
Ingredients
Bagels:
540

grams

bread flour

1 ¼

cup

warm water

1

packet

active dry yeast

2

tbsp

maple syrup

1

egg white

¼

cup

toasted sesame seeds and sea salt (optional)
Cream Cheese:
8

cups

whole milk

⅓

cup

white vinegar

1½

tsp

salt

2

tsp

heavy cream
Toppings: (optional)
heirloom tomatoes

Applewood sockeye smoked salmon

red onions

(thinly sliced)

capers

drizzle of olive oil

lemon juice

fresh dill

salt and pepper to taste
Instructions
Cream Cheese:
Pour whole milk into a large pot and bring it to a slow boil. Slowly add the vinegar while stirring. Once you see the curds form, turn off the heat.

Place layered cheese cloth on a bowl and strain the curds from the whey. Place the curds into a food processor, add salt, heavy cream and blend until smooth. Store in an airtight container.
Fresh Bagels:
Pour the active dry yeast, maple syrup, and warm water into a bowl and allow the yeast to bloom for 5 mins.

Use the dough hook on your stand mixer to mix the bread flour, salt, and yeast mixture on low for 5 mins.

Remove dough and begin to knead by hand for 5 mins. Place the dough in a bowl and cover with plastic wrap and allow it to rise for 1 hour.

Separate the dough into 8 pieces. Roll each piece into a tube, then wrap both ends around your finger and place on a lined baking sheet. Cover and refrigerate overnight.

In the morning, bring a large pot of water to a boil, add baking soda and maple syrup. Drop 2-3 bagels in at a time for 20 seconds. Brush each bagel with egg white, dip into toasted sesame seeds and sea salt mixture (or your favorite topping), then place on a lined baking sheet and bake at 400 for 14 mins.

Allow to cool, then cut the bagel in half, add cream cheese and toppings and ENJOY!
Did you make this recipe?
Please let me know how it turned out for you! Leave a comment below and tag @itsniamoore on Instagram and hashtag it #LiveMoore.