Tis the season to go all in on our veggies, which is what inspired our Charred Cabbage with Crispy Chicken Skin recipe. In my opinion cabbage is a very inexpensive vegetable that often gets overlooked. This cabbage has a deep golden char which enhances the flavor and is roasted in a beautiful and savory tomato-white wine sauce. We then top it with crispy chicken skin, fresh parsley, and dijon mustard. The cabbage is firm yet tender and is beautifully served by the wedge.
Why crispy chicken skin? Crispy chicken skin is the most sought after element when eating chicken. It's what we savor and often save until the last bite. I wanted the cabbage to have an unexpected element of crunch and flavor. The parsley brightens up the dish, and the dijon adds delicate acidity and spice.
This Charred Cabbage with Crispy Chicken Skin recipe is good for the soul and is the perfect side dish to serve during Thanksgiving.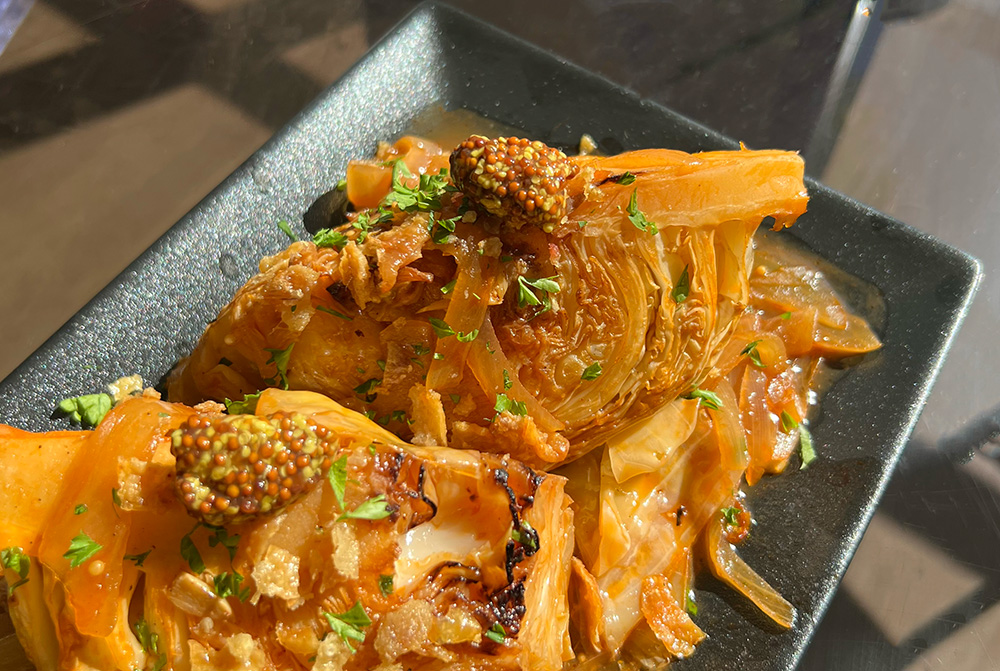 Charred Cabbage with Crispy Chicken Skin
Ingredients
1

whole green cabbage

3/4

cup

chicken broth

1/2

cup

Sherry wine (dry)

1/2

yellow onion (sliced)

4

garlic cloves (roughly chopped)

3

tbsp

tomato paste (double concentrate, if possible)

1/2

tsp

mustard seeds

4

chicken thighs (for the skin)

2

tbsp

whole dijon mustard

olive oil

fresh parsley (chopped)

salt & pepper to taste
Instructions
Preheat the oven to 350 degrees.

Slice the cabbage into 4 wedges.

Drizzle olive oil in a skillet over medium heat and char the cabbage on both sides until brown. Remove the cabbage from the skillet, place the wedges on a plate, season with salt and pepper, and set aside.

Coat the skillet with more olive oil, add the onions, salt, and pepper, and sauté for 3 minutes. Add the garlic and sauté for another minute.

Add the dried mustard seeds and tomato paste and stir. Allow the ingredients to marry for 3 minutes.

Pour the Sherry into the skillet and use a rubber spatula or wooden spoon to remove any bits from the bottom of the skillet and cook for 2-3 minutes. Be sure to allow the alcohol to completely cook out.

Pour in the chicken broth and stir. Add the cabbage wedges to the skillet and place in the oven for a total of 40 minutes. Flip the cabbage after 20 minutes of cooking.

Remove the skin from each chicken thigh, rinse, and pat dry with a paper towel. Place the chicken skins on a lined baking sheet, season with salt Shallot & Garlic Blend, and roast in the oven at 400 degrees for 20 mins. Flip the chicken skin 10 minutes into cooking. Drain and pat dry with paper once it's done cooking and crumble into small bits with your fingers.

Plate the wedges on a serving platter and pour the sauce over the cabbage with a ladle. Garnish with whole Dijon mustard, crumbled chicken skin, and parsley. Serve immediately and enjoy!