I'm very proud to say this Dungeness Mac and Cheese recipe doesn't call for pre-made cheese sauce or eggs. Instead, this cheese sauce is handcrafted using a 'Béchamel' sauce as its base. Béchamel sauce is one of the "mother sauces" of French cuisine. It's traditionally made with white roux and milk and used to make white sauces, cheese sauces, and soufflés.
Dungeness Crab
The sweet and delicate texture of Dungeness crab adds richness to this already delicious recipe. To those who want to show out on Thanksgiving, or need to bring an impressive dish to a potluck, I got your back! Adding the crab is optional, the recipe is totally delish with or without the crab meat. I try to use fresh ingredients when possible and I was fortunate enough to source live Dungeness crab for this recipe. If you're in the LA area, Captain Kid's has live Dungeness crab yeararound. You can also use different types of crab for this recipe, feel free to experiment.
The Rich Selection of Cheese
I was very intentional about the selection of cheese used in regard to texture and flavor. First, let's talk flavor; Sharp cheddar serves as the base, offers a traditional cheesy taste, and gives the mac its gooey pull. The aged gouda (one of my favorite types of cheese) is rich and has a very deep nutty flavor with a slight caramel finish. The Parmigiano Reggiano is also aged and has a nutty flavor, it's sharp, and has the perfect savory-sweet balance. Lastly, mozzarella! It's very moist and has a delicate milky flavor.
Top Layer of Cheese
The entire top layer of Dungeness Crab Mac and Cheese is very similar to the corner edge slice of mac that we all desire; it has a crust with lots of cheese pull, resulting in bubbling goodness. On the top layer, I use all of the cheese listed above with the exception of mozzarella because it has a lot of moisture, and was on a quest to achieve the perfect bubbling cheese crust. Check! 
Things to Know
I welcome you to make this recipe your own, but I highly recommend you at least use the cheese listed in this recipe and add to it. Also, you may be tempted to use heavy cream or half and half, well I tried all of the above so you wouldn't have to ;). Both heavy cream and half and half make the cheese sauce too thick and once baked and absorbed into the noodles, it's not as creamy.
I highly recommend shredding your own cheese because pre-shredded cheese is often tossed with starch and preservatives to aid the cheese in lasting longer and preventing it from sticking together. Parmigiano Reggiano is a hard cheese, so be sure to grate it using a Microplane grater.
Be sure not to add too many cooked macaroni noodles to the cheese sauce because the noodles will continue to cook when in the oven and they tend to expand and absorb lots of cheese sauce. The macaroni, cheese sauce, and Dungeness crab mixture should be very loose and saucy.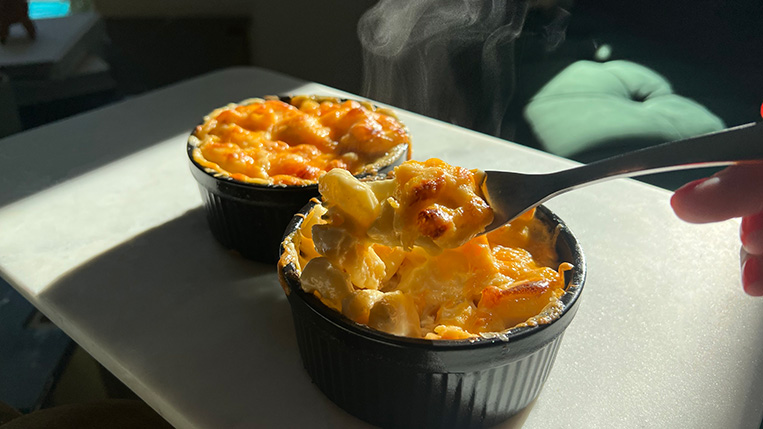 Dungeness Crab Mac and Cheese
This rich and cheesy mac serves as the perfect side dish for any dinning occasion!
Ingredients
1

lb

Dungeness crab meat (optional)

preferably fresh

6

tbsp

salted butter

3/4

cup

unbleached flour

4 1/2

cup

whole milk

3 3/4

tsp

salt

1 1/2

tsp

granulated garlic powder

3

tsp

granulated onion powder

3/4

tsp

truffle zest

1/4

tsp

mustard powder

1/4

tsp

white pepper

Pinch

cayenne pepper

3 1/4

cup

sharp cheddar

(hand graded) reserve 1 cup for the topping

1 3/4

cup

aged gouda

(hand graded) reserve 1/4 cup for the topping

3/4

cup

mozzarella

(hand graded)

1 1/4

cup

Parmigiano Reggiano

(hand graded) reserve 1/2 cup for the topping

10

oz

elbow macaroni

(3/4 of the 16 oz bag)
Instructions
Preheat the oven to 375 degrees.

Remove the Dungeness crab meat from the shell and place it in the refrigerator. Place the Dungeness crab shells in an airtight container and store them in the freezer to make a broth! 🙂

Oil your pan or ramekin with a neutral oil and set aside.

Grate the sharp cheddar, aged gouda, and mozzarella using a standard grater. Grate the Parmigiano Reggiano using a Microplane grater. Set aside.

Boil 5 quarts of salted water in a medium saucepan. The water should taste like sea salt.

Let's begin building the bechamel sauce by making the roux. Melt the butter in a saucepan on low heat. Once the butter is melted add a small amount of flour at a time and whisk repeatedly. Continue this process until you've incorporated all of the flour into the saucepan. Allow the flour to cook to ensure the bechamel sauce doesn't taste grainy, but be sure to not brown the flour. It should smell slightly nutty, and should have the texture of wet sand.

Slowly pour a small amount of milk at a time into the saucepan and continually whisk. Make sure you are eliminating any lumps from forming. The bechamel sauce should be smooth and creamy.

Add salt, garlic powder, onion powder, cayenne pepper, truffle zest, white pepper, and whisk well.

Add sharp cheddar and whisk until melted. Add the aged gouda and whisk until melted. Follow the same steps for the mozzarella and Parmigiano Reggiano.

Add the macaroni to the boiling water and cook for 4-5 mins (set a timer!)

Strain the macaroni noodles and pour them into the saucepan and fold them into the cheese sauce.

Fold the Dungeness crab meat into the cheese sauce.

Pour the Dungeness mac and cheese into a baking dish or medium-sized ramekins.

Add the sharp cheddar, aged gouda, and Parmigiano Reggiano into a bowl and toss. This is going to give us a beautiful bubbling cheese crust. Evenly sprinkle the cheese on top of the mac and cheese.

Place the baking dish or ramekins on top of a parchment-lined baking sheet (to avoid the cheese spilling in the oven) and place in the oven. Bake uncovered for 20-25 mins. Serve immediately and enjoy!
Notes
Note: This recipe yields 8 servings and can be baked using a 9 1/2″ x 9 1/2″ baking dish or 8, 4 1/2″ round ramekins.