The Green Sapphire Margarita is a spicy and refreshing cocktail with a kick of spice, cooling cucumber, and smoky notes of Mezcal. It ties perfectly with the Spicy Rim.
It gets its name from the rare gem stone, Green Sapphire, because of its green color. The complex flavor is reminiscent of the facets that create the perfect brilliance. Also, green sapphires represent tranquility which goes hand in hand with the calming essence of fresh cucumber juice that's included in this recipe.
The Green Sapphire Margarita is so bright in flavorful, it's only right to create a stunning presentation. The defined Spicy Rim strip, thinly sliced jalapenos, and lime wedge is my definition of well garnished cocktail.
The mocktail version is delicious as well, you'll find the substitutions below the recipe.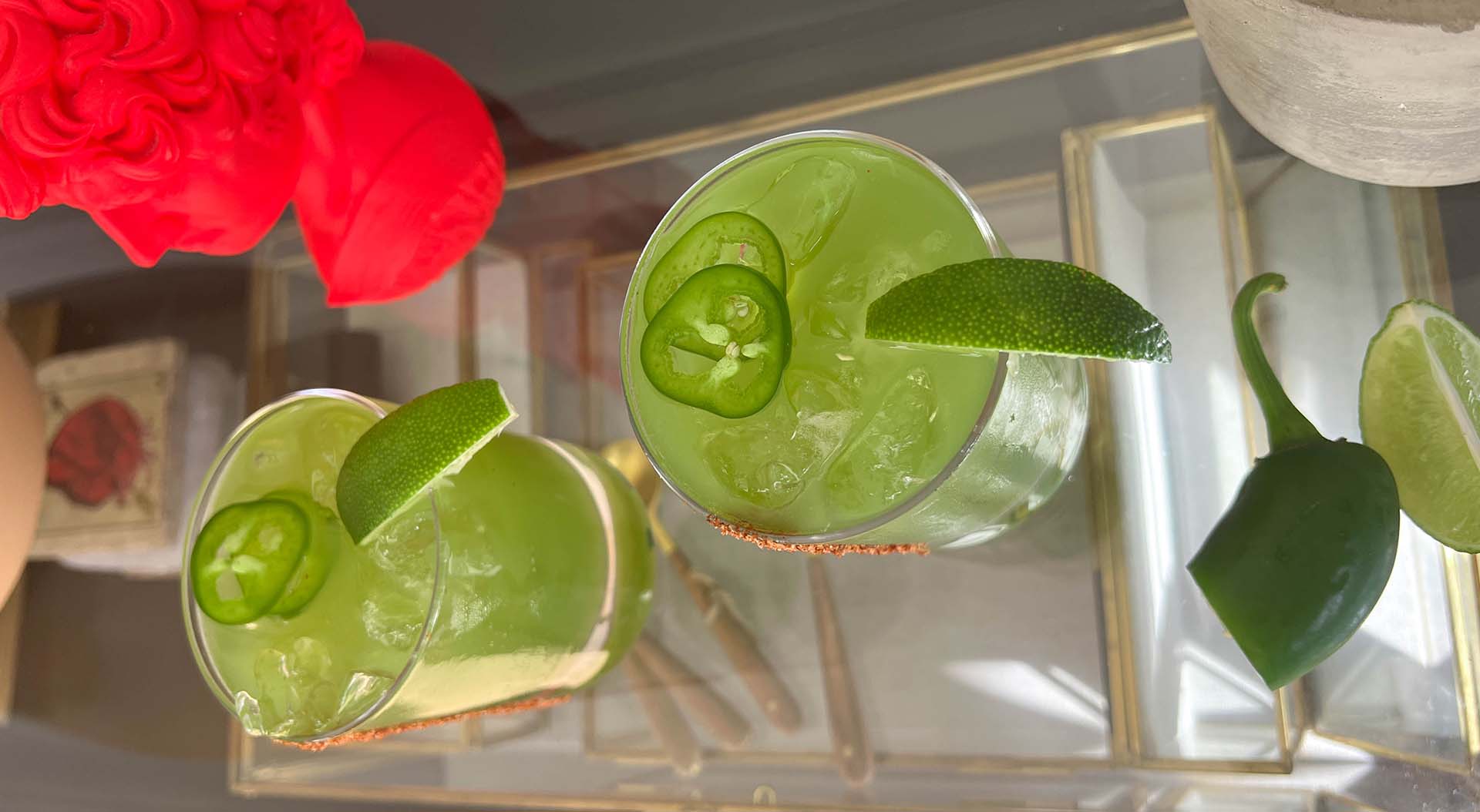 Equipment
Juicer

Sharp knife

Painters tape

Pastry brush
Ingredients
1.5

oz.

mezcal or tequila

2

oz.

cold pressed cucumber Jalapeno juice

(1 cucumber, 1 jalapeno)

.5

oz.

Cointreau liqueur

.5

oz.

simple syrup

.5

oz.

lime juice

2

tbsp

Tajin
Instructions
Coat the 3/4 strip with simple syrup using a pastry brush. Dip the rim of the glass and coat it with Tajin

Fill the rocks glass with ice and set aside.

Add the Mezcal or sparkling water, cucumber jalapeno juice, lime juice, and simple syrup into the cocktail shaker.

Add ice to the cocktail shaker and shake well.

Strain the ice while pouring the ingredients into the rocks glass.

Garnish with a lime wedge and a fresh or dried pepper.
Notes
Mocktial version:  Replace the mezcal or tequila with sparkling water.  Avoid shaking the mocktail in a cocktail shaker due the carbonation in the sparking water. Instead, stir with a cocktail spoon to mix the ingredients.
Did you make this recipe?
Please let me know how it turned out for you! Leave a comment below and tag @itsniamoore on Instagram and hashtag it #LiveMoore.