Savory Sweet Potato Mash is creamy, sweet, salty, and herbaceous. You only need 5 ingredients – sweet potatoes, butter, bacon, rosemary, and salt. The last four ingredients mentioned really enhance the earthy and sweet flavor of the sweet potato. You'll find minced applewood bacon in each bite which is salty and woodsy. The fresh minced rosemary provides earthy notes which marries well with the creamy butter. It's seasoned with fine kosher salt and is topped with Live Moore's Finishing Salt for delicate crunch.
I prefer roasting the sweet potatoes over steaming them because roasting allows the flavor to deepen and caramelize. The texture of a roasted sweet potato is dense and stringy so I mashed them through a stainless steel sieve to remove the strings and give me a smooth and creamy consistency. This step is not required, nor does it change the flavor, it just enhances the texture. It's totally optional, but worth it! The cubes of butter are whipped into the creamy sweet potato to make a light and fluffy mash.
What I love most about this Savory Sweet Potato Mash recipe is that it does not require added sugar. Instead, we use salt, butter, and aromatics to enhance the natural flavor of the root vegetable. This recipe is perfect to serve for Thanksgiving dinner and is sure to excite your taste buds.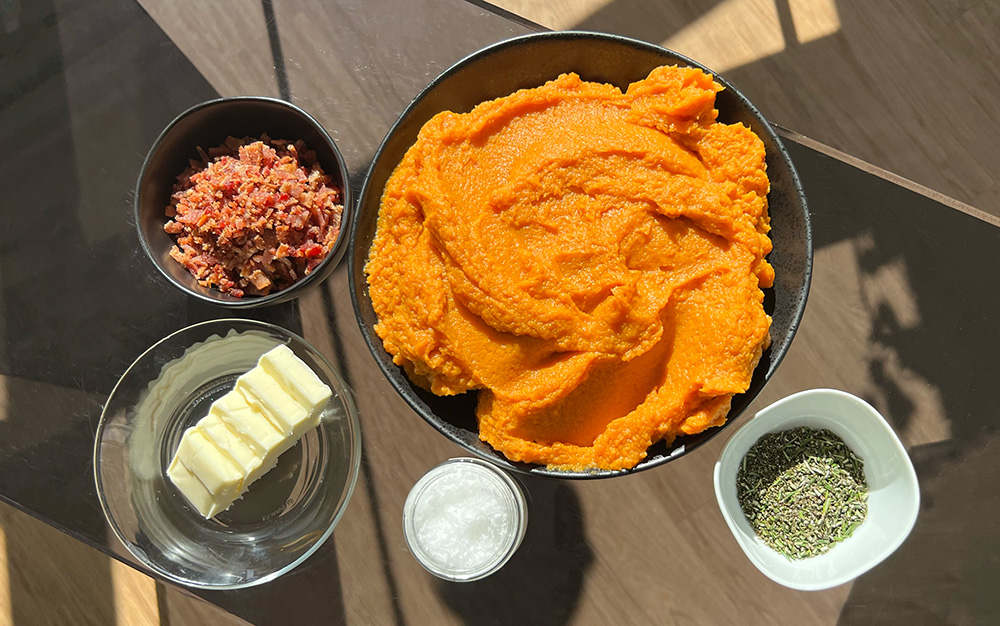 Savory Sweet Potato Mash
Equipment
Stainless steel sieve

Large bowl

Bench scrapper

Large knife

Large spoon
Ingredients
7

large sweet potatoes

6

tbsp

salted butter

12

oz

apple smoked bacon (minced)

2

tbsp

rosemary (minced, plus a sprig for garnish)

kosher salt to taste

Live Moore Finishing Salt to finish

2

tbsp

butter to finish
Instructions
Place the sweet potatoes on a lined baking sheet and roast for 1 hour at 400 degrees until fork tender. Remove from the oven and allow to cool.

Cook the bacon on medium-low heat and use a paper towel to strain the excess oil. Mince the bacon into small pieces and set aside.

Mince the rosemary and set aside.

Once the sweet potatoes have cooled, remove the skin and scrape the potatoes through a stainless steel sieve using a bench scraper for a smooth consistency. This step is optional, but will help remove the strings and will leave you with a creamy texture.

Place the sweet potato mash into a large pot, add the butter, bacon, and rosemary, and mix thoroughly.

Serve with a tablespoon of salted butter, Finishing Salt, and a small sprig of rosemary. Happy holidays!