These Soft Dinner Rolls with Caramelized Onion Compound Butter are perfect for your holiday dinner. The rolls are fluffy with a glossy buttery exterior topped with Finishing Salt. The Caramelized Onion Compound Butter is rich in umami flavor and is super creamy.
Who doesn't love fresh bread? What I like most about this recipe (outside of them being delicious) is we're all likely to already have all the ingredients in our kitchen. Though they taste fancy, the Soft Dinner Rolls with Caramelized Onion Compound Butter calls for very basic ingredients so they are so simple to make. I recommend using a kitchen scale to ensure all the rolls are uniform in size. There's a sense of pride you get from making your own bread. Once they are done cooking and have been blessed with melted butter and Finishing Salt serve immediately with a side of Caramelized Onion Compound Butter.
Caramelized Onion Compound Butter
A few weeks ago I visited Paris and was on the hunt for a French boutique market. A friend of mine, who is a local, recommended Le Bon Marche which means The Good Market in French. It's a 4 level department store that features food/home on one side and clothing/shoes/perfume on the other side. I was completely blown away by the food/home department. The first level was a large grocery market that featured fresh seafood, meat, product, you name it. The display was so beautiful. In Los Angeles, I typically buy a French butter called Beurre de Baratte which is a creamy and lightly salted butter, so I decided to browse the butter section. They had tons of butter and a wide variety of compound butter. I purchased caramelized onion and yuzu butter. Which were insanely delicious and inspired me to make my own. 
Our Caramelized Onion Compound Butter features jammy onions that have an amber hue and have the perfect balance of sweet and savory. Be sure to cook the onions on low and stir every 15-20 minutes or so to ensure they don't burn or get stuck to the bottom of the pan. I like to leave the lid on for the first 45 mins, then uncover them to cook out the moisture. I used French butter for this recipe, but feel free to use any salted butter you have on hand.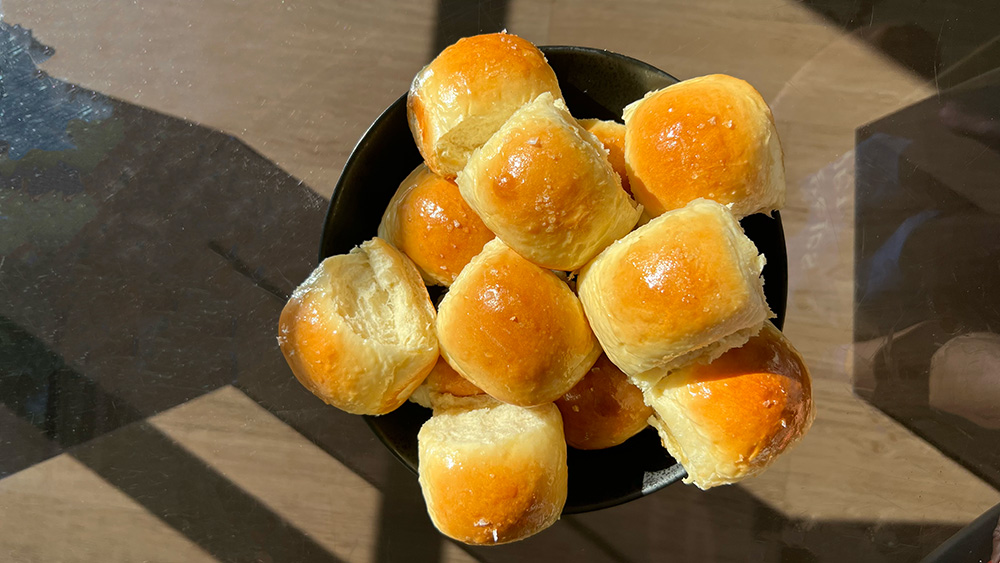 Soft Dinner Rolls and Caramelized Onion Compound Butter
Equipment
KitchenAid Stand Mixer with a dough hook (optional)

Food processor

Kitchen scale

8 x 11 baking dish

Large bowl

Pastry brush

Kitchen towel

Thermometer
Ingredients
Soft Dinner Rolls
4-4 1/2

cups

All Purpose Flour

1 1/2

cups

warm whole milk (100-110 degrees)

2

eggs (reserve 1 egg for the egg wash)

2 1/4

tbsp

active dry yeast (1 standard packet)

2

tbsp

salted butter (melted)

2

tbsp

honey

1 1/2

tsp

kosher salt

Top with: 3 tbsp of melted salted butter and Finishing Salt
Caramelized Onion Compound Butter
2

large yellow onions

2

sticks of salted butter (room temperature)

Olive oil

kosher salt
Instructions
First things first, we need to get our onions going because it takes 1-1.5 hours to become caramelized. Chop the onions and saute in a large skillet over low heat.

Pour 4 cups of flour, the active dry yeast, kosher salt, 1 beaten egg, honey, 2 tbsp melted butter, and warm milk (100-110 degrees) into the bowl attachment of your Kitchenaid Stand Mixer and stir to combine the ingredients. Place the dough hook attachment on your stand mixer and mix on low for 2 minutes. Once all of the ingredients are combined, add ½ – 1 cup of flour if needed. Mix the dough on high for 2 additional minutes until the sides of the bowl are clean and the dough has formed into a ball.

Grease a large bowl with oil, place the dough in the bowl, and cover with a kitchen towel for 30 minutes to double in size.

Make sure your countertop is clean and grease your baking dish. Use a kitchen scale to measure 2.5 oz pieces of dough. Form your hand into a C and continuously roll the ball in a circular motion until the ball of dough becomes smooth and round. Place each ball of dough into the greased baking dish. Cover the baking dish with a kitchen towel for 20 minutes to allow the dough to double in size. Preheat the oven to 375 degrees.

Once the dough balls have risen, brush the rolls with an egg wash so they'll be nice and glossy. Then, place the rolls in the oven to bake for 20 mins.

Transfer the sauteed onions and butter into a food processor and blend until smooth.

Remove the rolls from the oven, brush with melted butter, and top with Finishing Salt. Serve with the Caramelized Onion Compound butter and enjoy!