This Creamy Herb Roasted Potato Salad is so delish! It's creamy and dairy free. I promise you won't miss the eggs or the mayo. Perfectly roasted potatoes are always a bit hit, but the Liquid Gold Tahini Dressing, crisp veggies, and fresh herbs are added, you are sure to experience a party in your mouth. I'm not a sweet pickle girl so this recipe calls for crunchy dill pickles and capers. The pickles and cucumbers are cut into the same size and the duality is both refreshing and tart.
No Eggs, No Mayo
Okay, lets talk about the elephant in the room. Why was I inspired to make a potato salad without eggs or mayo? I'm allergic to egg yolk and most potato salads include chopped eggs and potatoes swimming in a large spoonful of mayo (which includes egg yolk) Also, the smell of mayo is rather unpleasant so I avoid it at all cost. So where does that leave me a family barbecue? Hungry, with meat and baked beans as my only option.
My Prayer Answered
My partner once took me on a surprise date to a cooking class at Sur La Tables and we cooked French cuisine. The menu included potato salad with red onion, capers, a red wine vinaigrette, topped with fresh chives. My mind was blown! A potato salad with no eggs, no mayo, just fresh and bright ingredients? My prayer had been answered. Since then, I'd been on the mission to creating my own potato salad recipe.
The Perfect Side Dish
I love cooking with Yukon Gold Potatoes because they have a slightly sweet, nutty, and buttery flavor. Instead of only boiling the potatoes I decided to step it up a notch by adding has roasted potatoes with crispy brown edges and a soft fluffy center. The potatoes are roasted in Ghee, which gives the potatoes a rich buttery flavor without the risk of burning because Ghee has a high smoke point of 485 degrees. The potatoes absorb the creamy dressing so beautifully. It includes red onion, green onion, cucumber and is topped with capers and lots of fresh herbs. This Herby Roasted Potato Salad is the perfect side dish for your summer picnics, holiday gatherings, or barbecue.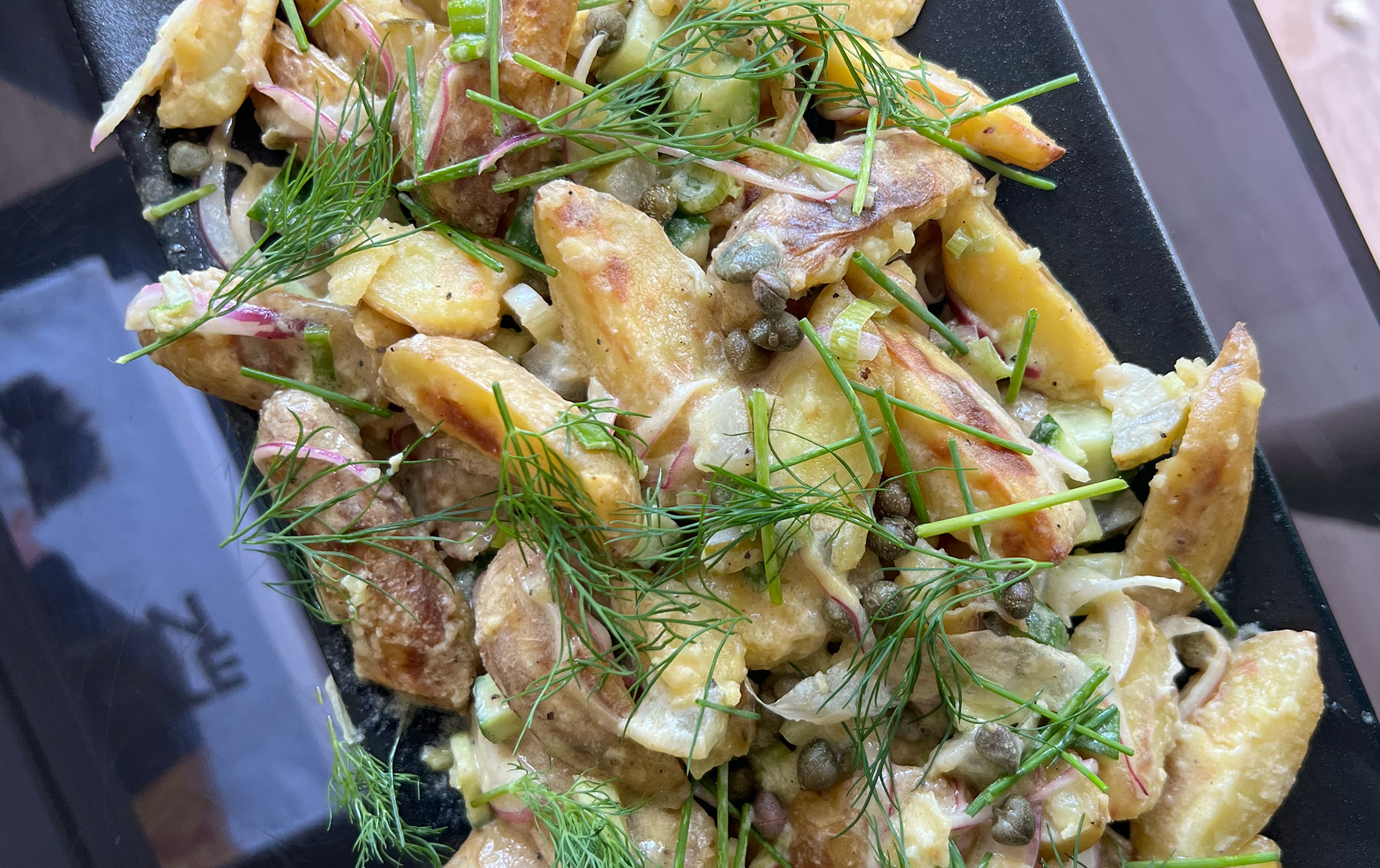 Herby Roasted Potato Salad
Equipment
Large pot

Strainer

Baking sheet

Large bowl

Parchment paper

Mandoline Slicer
Ingredients
3

lbs

Yukon Gold Potatoes, cut in fours

1/4

red onion, thinly sliced

3

green onions, thinly sliced

3

dill pickles, cubed

3

persian cucumbers, cubed

3

tbsp

capers

2

tbsp

parsley, chopped

3

tbsp

chives, chopped

3

tbsp

dill, torn

2

tbsp

ghee

salt & pepper to taste
Instructions
Preheat your oven to 425 degrees.

Rinse the Yukon Gold Potatoes. Slice the potato in half using a cutting board and sharp knife, then slice again in half lengthwise.

Place the sliced Yukon Golds into a large pot, and fill the pot with cold water just enough to cover the potatoes. Salt the water so it resembles seawater and bring the water to a boil.

Chop the cucumbers, pickles, red onion (use a Mandoline slicer if possible), green onion, parsley, chives, and dill, then set aside.

Melt the ghee using a small saucepan and set aside.

Once the potatoes have reached a rapid boil, remove them from the heat and strain them using a strainer.

Lay the potatoes on a lined baking sheet and place them in the oven for 20 minutes.

Prep the Liquid Gold Tahini Dressing and set aside.

Once the potatoes are roasted, remove them from the oven and place them in a large bowl. Allow them to cool for 10 minutes.

Pour the Liquid Gold Tahini Dressing into the bowl of roasted potatoes. Add the pickles, cucumber, red onion, and green onion, and toss using a pair of salad tossers.

Garnish with capers, parsley, dill, and chives.