This Brown Butter Hazelnut Broccolini is savory, the garlic is slightly sweet and aromatic, and the toasted hazelnuts pronounce the deep nutty flavor from the browned butter. The flavors are lifted by the lemon zest and married with a squeeze of lemon to balance the rich buttery flavors with acidity. The broccolini is lightly blanched and finished with a quick sear ensuing its fork tender.
I created this Brown Butter Hazelnut Broccolini recipe when planning my contribution to an intimate dinner with some friends. One is a fantastic chef who owns one of the hottest restaurants in Los Angeles. I will spare his modesty by not mentioning his name or restaurant, but so you know, the pressure was on! I was assigned a side dish and a cocktail. Mastering a side dish can be tricky because it's not the star of the plate, however, it still needs to be memorable. Naturally, I wanted to impress him, and I did! I considered making something I've tried at a restaurant but decided to challenge myself and go within.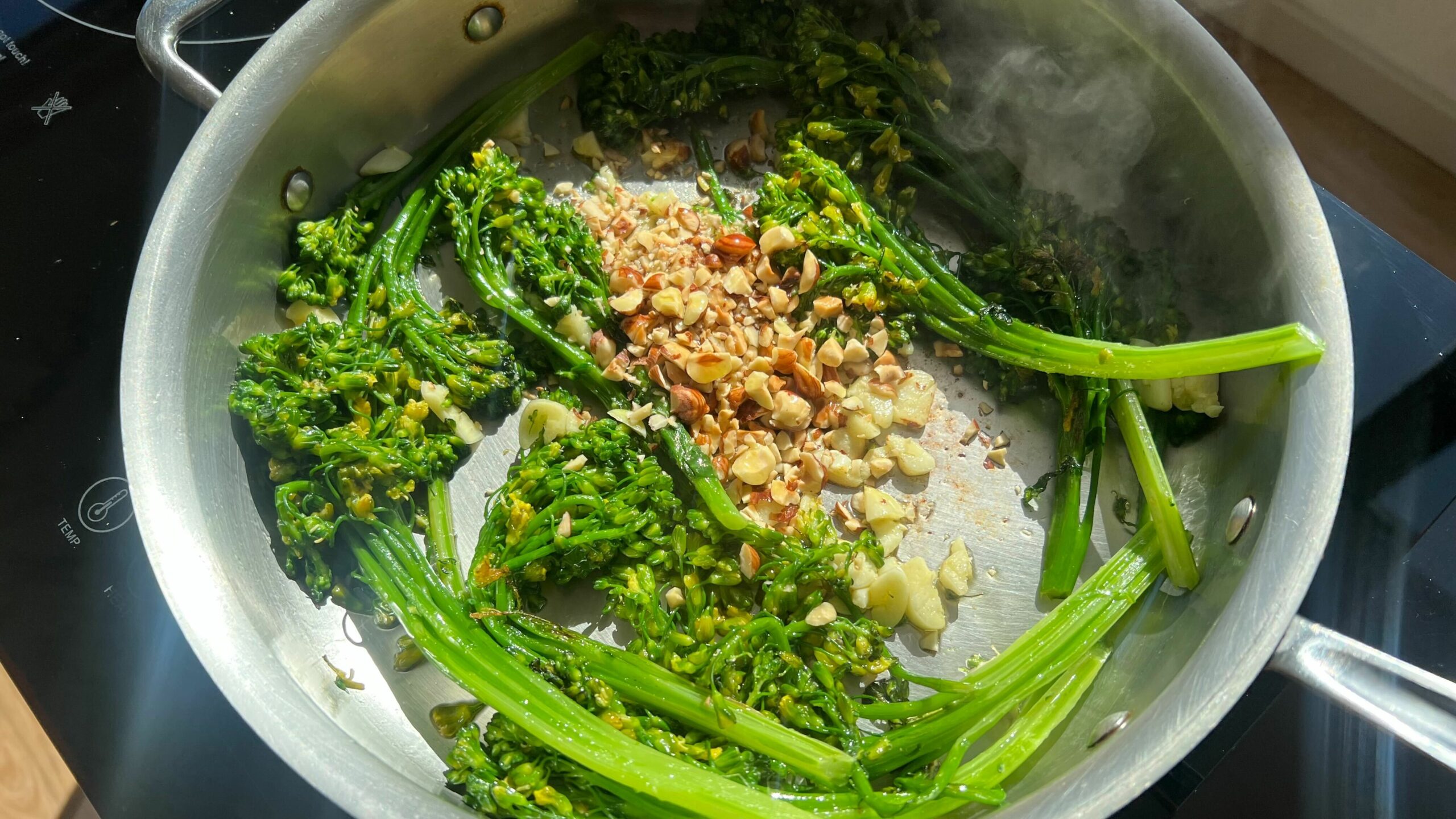 Brown Butter Hazelnut Broccolini
Tender and crisp broccolini simmered in brown butter, roughly chopped garlic and hazelnuts, topped with lemon zest, and a squeeze of lemon.
Equipment
Large pot

Saute pan

Microplane zester

Large knife

Large glass or stainless steel bowl

Strainer

Paper towels
Ingredients
1

lb.

Broccolini

10

Whole garlic cloves

1/3

cup

Toasted Whole Hazelnuts

3

tbsp

Olive Oil

1

cup

Butter

Zest of one lemon

2

tbsp

Lemon juice

Flaky salt and pepper to taste

1

cup

Ice
Instructions
Place the butter in a sauce pan on medium heat and whisk the butter until the color turns golden brown and the you smell a nutty aroma. Transfer to a metal or glass container and set aside. Set the pan aside.

Bring a pot of salted water to a boil.

Fill a large bowl with 3/4 of water and set aside.

Roughly chop garlic and hazelnuts, then set aside.

Wash and trim the ends of your broccolini.

Blanche the broccolini in the boiling water for 60 seconds. While the broccolini is boiling gather 1 cup of ice and the large bowl filled with water and place is close by in preparation of your ice bath. Once the broccolini has boiled for 60 seconds, pour the ice in the bowl of water and immediately transfer the broccolini in the ice bath to stop the cooking process. Once the broccolini has cooled down, thoroughly dry using paper towels.

Drizzle olive oil in the same pan you used to brown the butter and place on medium. Sear the broccolini on one side, once you flip the broc add your garlic (add additional olive oil as needed). Once the garlic is tender add the hazelnuts and drizzle in the brown butter. Remove the pan from heat, top with flaky salt, the zest of one lemon and a squeeze of lemon juice. Serve and enjoy!