This Balsamic & Feta Watermelon Salad is incredibly refreshing. The salad includes watermelon soaked in freshly squeezed lime juice and balsamic vinegar. It's topped with flaky salt, creamy and mild feta made from sheep's milk, a drizzle of Balsamic of Modena, and aromatic mint leaves. The balsamic vinegar in this recipe really enhances the sweetness of the watermelon. The lime juice and flaky salt is not only a mouth watering combination, but adds much needed tartness.
It's the perfect dish to serve if you're hosting a party or bringing a dish to a beach picnic.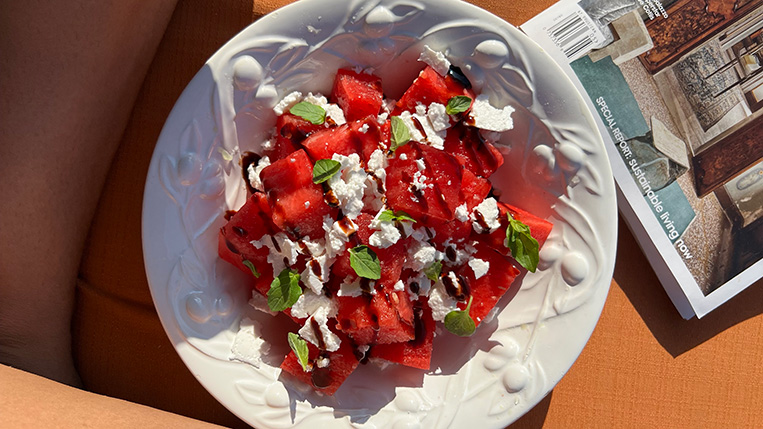 Balsamin & Feta Watermelon Salad
Equipment
Large knife

Large Serving Platter
Ingredients
1/2

Juicy ripe watermelon

2

tbsp

Fresh lime juice

2

tbsp

Balsamic vinegar

9

oz.

Sheep's milk feta, in the brine
Drizzle of Balsamic of Modena
Flaky salt to taste
Fresh mint leaves
Instructions
Begin cutting the watermelon by removing the end from each side (where the stem was). Sit the watermelon up on one of the flat ends. Run your knife down the side of the watermelon to remove the rind, turn the watermelon and continue until the skin is removed. Cut the watermelon in half, then begin to dicing it into cubes.

Toss the watermelon in fresh lime juice and balsamic vinegar. Refrigerate for at least 2 hours.

Top with flaky salt, crumbled sheep's milk feta, a drizzle of Balsamic of Modena, and fresh mint leaves. Enjoy!