This Liquid Gold Tahini Dressing is an absolute kitchen staple. I consider it liquid gold because you'll absolutely want to put it on everything. It's simple to make and has so much flavor. It's giving restaurant quality, and it's dairy free! It requires quality Extra Virgin Olive Oil as it's your base, fresh lemon juice and red wine vinegar for acidity, dijon mustard for a bit of spice, a hint of garlic, and a drizzle of honey to balance the other flavors. This smooth and creamy recipe is so versatile and can be used in potato salad, drizzled over roasted veggies, or as a dip to grilled artichoke. You can also customize it by adding fresh herbs, shallots, or chilies.
Acid to Oil Ratio
Have you ever made a vinaigrette or dressing, and it was too tart? I assure you this recipe has the perfect balance.
The acid to oil ratio is perfect (pats self on the back), so I'd encourage you to stick with the recipe. I was inspired to make this dressing because I don't favor egg yolk in my dressings or vinaigrettes, but I still crave a creamy topping for my salad. Emulsifying the oil, vinegar, and lemon juice at the start of the recipe is the secret to the creamy consistency so I encourage you to add the ingredients in the order provided, and you'll be good to go. I also love that it's not too thick and can be easily tossed evenly in a salad.
Convenient and Simple
This Liquid Gold Tahini Dressing is perfectly balanced, delicious, and a kitchen staple. I make a batch at the start of every week, which has simplified my meal prep. It's so simple, it includes fresh and quality ingredients, and you don't have to use a blender. Instead, you can use a whisk and whip it up quickly. It can be stored in the refrigerator for 1 week. Get your Mason jar out and get started!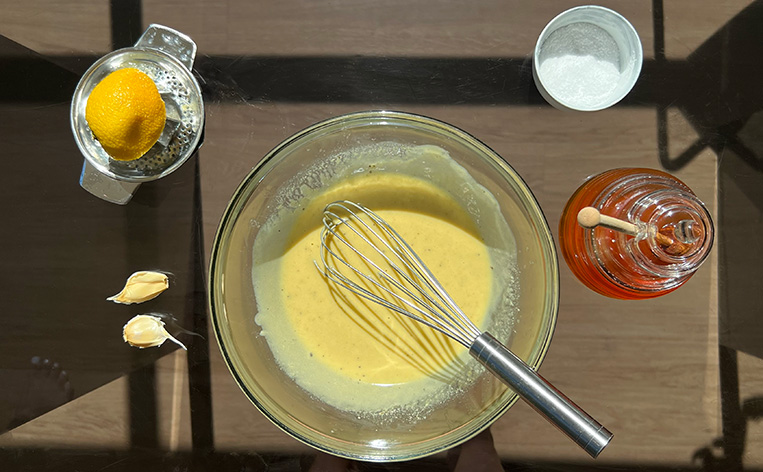 Liquid Gold Creamy Tahini Dressing
Equipment
1 Medium sized bowl

1 Citrus juicer

1 Microplane grater

1 Whisk
Ingredients
1/2

cup

Extra Virgin Olive Oil

3

tbsp

lemon juice

1

tbsp

red wine vinegar

1

tbsp

Dijon mustard

1/4

cup

tahini

1

garlic clove, grated

2

tsp

honey

salt & pepper to taste
Instructions
Pour the Extra Virgin Olive Oil, lemon juice, red wine vinegar, and salt and pepper, in a medium sized and whisk until the oil and acid is completely emulsified. It should be yellow and creamy.

Add the tahini to the bowl and mix.

Add the Dijon mustard and honey to the bowl and whisk until combined.

Add the garlic using a microplane grater or garlic press and whisk.